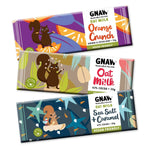 Vegan Chocolate Snacks
GNAW Vegan Snack Bars - Satisfy your cravings with indulgent, sustainable plant-powered Oat M!lk Chocolate! Enjoy a variety of flavours for a tasty snack anytime, anywhere.
🌱 Creamy Oat M!lk
Explore incredible-tasting sustainable flavours such as Sea Salt & Crunchy Caramel, Delightful Oat M!lk Chocolate and Orange Crunch!
Looking to make someone's day? Check out our Vegan Letterbox Chocolate Gifts!