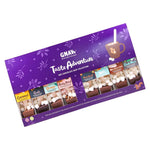 Chocolate Gifts Under £20
✔ FREE SHIPPING OVER £35  ✔ ETHICAL  ✔ NO PALM OIL

Chocolate gifts £20 & under - packed full of delicious ways to treat a friend or loved one! Send chocolate love with hot chocolate gift sets, delectable bars & special chocolate gifts!

🌱 Sustainable | 🤝 Ethical | 🍫 Exceptional
Savour the richness of chocolate made exclusively from sustainably sourced ingredients in Columbia. From farm to bar, our chocolate gifts are crafted with ethical care, ensuring our chocolate is exceptional in both flavour and values.