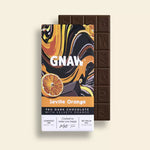 Dark Chocolate
Indulge in GNAW Dark Chocolate, where together with every bite we demand change in the chocolate industry.


🌱 Sustainable | 🤝 Ethical | 🍫 Exceptional
Savour the richness of dark chocolate made exclusively from sustainably sourced ingredients in Columbia. From farm to bar, our chocolate is crafted with ethical care, ensuring our dark chocolate is exceptional in both flavour and values.